Exceptional Horizons offers a variety of services...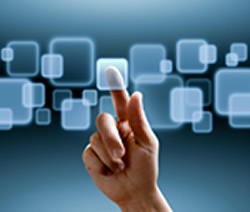 Designed for individuals, leaders, teams and coaches, services from Exceptional Horizons focus on assessing and enhancing workplace interpersonal effectiveness. Services primarily include assessments, coaching, and education. Outcomes are customized, though typically result in enhanced understanding of self/others; increased influence; increased teamwork/collaboration, and a better understanding of leadership potential and/or development needs – ultimately raising an individual's "emotional net worth" for the benefit of both the individual and the organization.
Services Highlights

(further detail on all service offerings below):
Coaching individuals and leaders to enhance their influence and teamwork effectiveness;
Assisting individuals and leaders in assessing interpersonal (EQ) skill levels (self and/or subordinates)– also available to other coaches/consultants;
Assisting with the critical 'interpersonal skill level' portion of performance reviews for key and senior personnel (via assessments that include anonymous 360 input);
Assisting with succession planning leadership assessments and development needs;
Adding insight into team dynamics via individual and/or team style assessments and/or coaching;
Providing leaders/individuals an experienced and objective "3rd ear" for perplexing communications/working challenges via 'just in time' situation-based coaching.

 Education on EQ, Styles, Conflict, etc. through teleseminars, webinars and workshops.
Assessments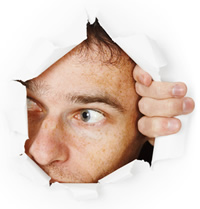 Emotional Intelligence Assessment
Personality Style Assessment
Others
These assessment options and tools are designed to enhance understanding of self and others. They add insight into motivations and habits that can then lead to utilizing the most effective approaches to advance goals and/or to approach others most productively.
Emotional Intelligence/EQ Assessment:
What: This assessment enables a full understanding of an individual's/leader's current competency level in emotional intelligence. The assessment tool used is the world renown and most widely recognized EQ assessment tool, the Bar-On EQ-i. Results are stated in the same manner as IQ ratings, highlighting strengths and helping to illuminate blind spots in both overall EQ as well as within 15 EQ "sub competency" areas. Basic strategies for enhancing EQ are also included. The tool also includes a safe, confidential and anonymous 360 component enabling up to 50 inputs (when/if appropriate) from up to 6 different customizable groups (e.g. peers, subordinates; clients; other teams, superiors, etc.) 360 input clearly helps point out if what we believe we are projecting is indeed perceived as we intended and if not – 'where not.' Emotional Intelligence levels are often the result of life influences such as role models, environments, etc., and as such can indeed be altered by new influences and knowledge. This assessment, which is administered on-line and available/interpreted only from individuals certified on the tool, is most often combined with the personality style assessment below.

For: The EQ assessment is an effective assessment for any individual and/or leader within, beyond, and/or preparing for a workplace environment and/or a leadership role, succession planning development plan, etc.. (Note: A group/team EQ assessment version is also available.)

Why: Those desiring excellence know their strengths and weaknesses – it enables them to more effectively utilize known skills and/or to develop and/or compensate for weaker ones. As one's emotional intelligence level is so dramatically influential in one's ability to succeed and excel in a team and/or leadership role, knowing your EQ level is a fundamental starting point. Doing something about the results is where excellence is achieved.

Personality Style Assessment:
What: The personality style assessment enables an individual (and often done for full teams) to better understand their own and others basic personality styles, the "hard wired" lens they (and their predisposed DNA!) typically tend to see the world through – be that a data/logic orientation, an action/results orientation, a people/support orientation, etc.. The assessment tool used is the SDI – Strength Deployment Inventory; one of the most widely used personality assessment tools in the industry based on "relationship theory", and utilizes a very easy to remember simplistic model that provides highly sophisticated, valuable and constructive insight and results. The tool assesses where one "is" when things are going well and it also assesses where one "goes" when conflict or stress is present. The tool also includes strategies for dealing with all the different styles.  As with the EQ-I, this assessment is available/interpreted only from individuals certified on the tool.

For: Individuals, leaders, and/or teams desiring insight into individual style tendencies/approaches/differences for self and others, based on "native" personality tendencies. Insight gained helps achieve a greater understanding and skill in dealing with others for more effective communications, conflict management, and relationships - enhancing workplace influence and value.

Why: Personality styles, unlike emotional intelligence, are more permanent in their nature with a stronger influence from 'gene predisposition" then environment/role models. Style similarities and/or differences are commonly the fundamental source of troublesome team dynamics and/or conflict. Understanding predictable style implications for self and others in both stress and non-stress times can be profoundly impactful to individual and team success in communicating, collaborating, managing conflict, and influencing.
Other Assessments:
There are a variety of additional assessments available from Exceptional Horizons that can be used as requested/desired or during a coaching program, that deal with conflict style, communication style, management style, etc. Typically clients would start with the EQ and/or Personality Style assessments listed above.

PLEASE NOTE ON THE CONTACT PAGE if you have an interest in a particular assessment area.  
Coaching - Enhance Your Impact...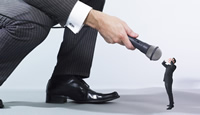 Coaching for "NOW"
Coaching for "Change"
Coaching for "Teams"


When working towards changing or enhancing habits, communication challenges, team dynamics and/or a single sensitive situation – objective outside and experienced business coaching can help.
Is coaching for you?  Consider these questions . . .
Do I have the impact and influence I want in my environment?

Do others open up and listen or close down when I talk?

Do I have an understanding of my interpersonal strengths and weaknesses?

Do I have the time, knowledge and energy to apply the ongoing focus
and attention needed to achieve different interpersonal results?


Do I really understand myself and/or where others' are coming from?

Do I have the level of emotional net worth needed to succeed in my environment?

Are their sensitive communication challenges I could simply use some occasional input on?

Do I build trust, partnerships, and collaborate as effectively as I need to with my teammates?

If you'd like to improve in any of these areas, then perhaps coaching could help.
Coaching for "NOW": 

What: This service is designed to assist an individual, leader, or coach potentially wrestling with how to approach a challenging issue by providing a "third ear" and/or another perspective/idea on a particular situation. (E.g.: a particularly difficult performance situation/review; an organizational restructuring; the communication roll out for a new project; a particular interpersonal workplace challenge; the necessary delivery of constructive criticism, etc..) Coaching conversations for these types of 'situations' can range from one phone call to multiple calls over a period of a few weeks, following the issue along as it unfolds. It may also include off-call work to review, edit and/or help create documents, etc.

For: Anyone wanting a "non-political" (objective and confidential outsider) point of view and/or an experienced business as well as EQ perspective on how a current workplace issue might be most successfully approached. Sensitive issues are a part of organizational life. The handling of such issues are often not only impactful to a project's or person's success or failure, but can also positively or negatively impact the culture and/or an individual's/team's overall attitude. Determining the "just right" approach can not only be time consuming, but the communication skill involved may not be a strong suit OR there's simply too little time or mind space to tackle it. Utilizing the services, training and experience of a neutral outside person can often expedite an effective solution/response. Potentially useful to individuals, leaders/managers, and/or other coaches/consultants. 

Why: Today's work environments are extremely fluid; team members, confidants, strategies, tasks and roles can change rapidly. The absence of time is the one common denominator. Having an outside "safe" and business experienced source to rapidly consult with – when/if needed – can assist in providing that additional virtual critical "thinking" to ensure a sensitive issue is most effectively addressed given the scarcity of an individual's and/or leader's time and opportunity.
Coaching for "Change"
What: One-on-one individualized coaching programs where changed behavior and interpersonal skill and/or impact enhancement is desired.  (E.g. enhancing listening or speaking skills in team environments; less volatility or passiveness in conflict; developing a more predictable and effective demeanor, etc.)

For: Executives, Managers, HIPOs (High Potential Employees) who want to enhance interpersonal skills that can improve their game. Current business issues/processes/topics serve as the foundation for defining, monitoring, and addressing interpersonal skill development goals and ensuring a positive return (ROI) on the business environment and the organization's goals.

Why: To achieve success. Research now shows that our "self/other" emotional management skills account for up to 4 times the influence on our success as does our IQ. Largely unrecognized until the late 1990's, today's work environments of mach speed, intense innovation, and heavy collaboration demands have exposed the absolute critical need for this area of skill in today's work world. In addition the research has also clearly and "loudly" identified the huge costs in reduced innovation, collaboration, and productivity that is directly reflected in lower growth, profitability, and the loss of key talent for organizations where weak emotional and interpersonal skills are prevalent and/or tolerated. High achievers need high EQ. Developing and mentoring requires time, focus, attention, skill. Most leaders today simply do not have the time to provide this critical and invaluable mentoring/coaching help to individuals that currently have or need to have an impact on the team or organization – and this also includes their own development needs and/or desires.

Coaching for "TEAMs"
What: A group coaching program where a group of individuals (collectively or one-on-one) could benefit from some coaching on a particular topic and/or situation for a pre-determined period of time.  (E.g. managing conflict; team communications and/or structures; performance review preparation; the management of differing styles, etc.)
For: Leadership teams, department teams, project and/or matrixed teams or "common topic interest" groups.  This often applies to organizations looking for a more effective "group" coaching economy and/or 'approach alignment' achieved through selecting a singular focus for all to enhance their skills in a particular area and/or to assist in helping the group (collectively or individually) deal with,support, and/or creatively roll out a particular business and/or cultural change and/or team dynamic challenge.
Why: Aligned and optimized teams perform – teams that aren't, cost. When the need arises, teams or their leaders may potentially be unskilled (or needing a refresher) in certain areas and/or interpersonal dynamics. Utilizing outside skill to fill the gaps can simply be more cost effective; providing the time, knowledge and razor focus needed.  We know that when teams are dysfunctional, 'stuck', or non-vibrant, everyone loses and the potential talent of each member stifled.  Utilizing outside coaching/assistance to help can make an important difference and can also provide an objectivity that enables all team members to fully engage without the normal political and/or hierarchical constraints - real or perceived.  Course correcting negative team habits helps prevent unnecessary turnover and/or the sub-par performance which impacts all the direct and indirect 'stake holders' involved including the team members, the manager, the organization, the board member, partners and ultimately the customer.
Teleseminars/Webinars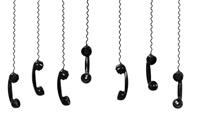 Teleseminars/Webinars

When time and convenience are paramount, expanding knowledge through these vehicles can make the difference between taking advantage of desired development opportunities or forfeiting them. This can be true for both individuals and teams who desire to enhance their knowledge in workplace dynamics.
Teleseminars/Webinars
What: Topic specific teleseminars and/or webinars on topics such as:  EQ – What it is and Why it Matters; The First 90 Days in a New Leadership Role; Managing Up; Communication Tips and Techniques, etc..  Typically held quarterly.  Details for each one will be expanded in the notification communications.
For:  Individuals, teams, leaders, and managers looking to grow their skills in a more compact, independent environment, accessible from any location, and done within a more abbreviated period of time.
Why:  Focused topical learning, with a limited and finite start/stop time-frame requiring only a phone and/or Internet connection, can enable learning that otherwise could not occur due to time/space/location restrictions.  Managers and individuals can therefore much more easily require and/or participate in topical skill enhancement opportunities that longer term commitments and courses make less likely.
PLEASE NOTE ON THE CONTACT PAGE if you would like to be notified of any upcoming Teleseminar/Webinar events and/or if you have a particular topic of interest.
Team Presentations and Workshops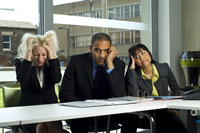 Team Presentations and Workshops

Interactive and educational, team workshops and/or presentations focused primarily on optimizing team dynamics can effectively target areas of particular need or interest to teams, or groups with common goals, in a focused and time effective manner.
Team Presentations and Workshops
What: 2-3 Hour Presentations and/or workshops, singularly or in a 2-3 part series
on a variety of team and/or leadership topics such as Personality Styles
and their impact on relationships within the team – understanding the differences in styles and learning to respond with enhanced understanding (which includes each member of the team joining in on a style assessment); Emotional Intelligence education/overview and it's key role in the team's and/or individual's success and performance; Communication and/or Conflict Styles, and customized programs.
For: Teams wanting to enhance their dynamics; grow their individual and collective skills; or work better with other teams. Held either as a standalone event, independent of other business agendas, or as a segment at retreats, planning meetings, team building events.
Why: Teams that work well together simply outperform teams that don't. Period. Some teams,(though very few in number), achieve this "peak performing EQ team dynamic" spontaneously. Most however, achieve a 'team' dynamic through the ongoing 'care and feeding' of the team culture and dynamics. 'Behind the intellect and expertise', the human dynamics element that enables intellect and expertise to produce great results, is something great leaders and teams constantly monitor and nurture. Style workshops, etc., are an excellent way to "feed" and develop the human dynamic equation required for team excellence.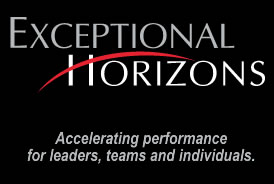 "Some opinions are discussed endlessly . . . with everyone but the people who need to hear them." Bob Wall
Working Relationships/2008.

"You'll always miss 100% of the shots you don't take." Wayne Gretsky

"…College researchers Gerald Olvero, K. Denise Bane, and Richard E. Kopelman found that a training program alone increased prodictivity 28%, but the addition of follow-up coaching to the training increased productivity 88% - the result of "attention density" and focus on the identified issue/effort." Cited by David Rock and Jeffrey Schwartz in "The Neuroscience of Leadership" article in strategy+business issue 43.

"You can't cross the sea merely by standing and staring at the water" Rabindranath Tagore

"You don't have to be good to start, but you have to start to be good." Joe Sabah

"Leaders who use their emotional resources to foster "engagement" (a sense of caring and commitment) deliver significant bottom-line results.  Teams with higher engagement are:
-50% more likely to have lower turn over
- 56% more likely to have higher-than-average customer loyalty
- 38% more likely to have above-average productivity
- 27% more likely to report higher profitability
Labarre (2001)/M.Buckingham article Fast Company 2008, from The Business Case for Emotional Intelligence by Joshua Freedman